I AM NOT YOUR NEGRO: JAMES BALDWIN AND RACE IN AMERICA
Queens-Media Center Level 1-E185.61 .I366 2017
Borrowing Privileges:One Week with Valid I.D. Card
If James Baldwin, one of the most eloquent and thought-provoking writers of American literature were still alive he would be more appalled, but not surprised, by the lawlessness of law enforcement today than between 1953 and 1987 when he was writing.
Such is the present condition of violence that director Raoul Peck parallels with our ugly past in his relentless documentary, I am Not Your Negro: James Baldwin and Race in America. Progress has gotten worse.
Based on Baldwin's 30-page unfinished manuscript, Remember This House, which he wrote in fragments up until the time of his death in 1987, Peck's documentary, in part, is Baldwin's memoir concerning his friendships with Dr. Martin Luther King Jr., Medgar Evers,and Malcolm X, and the era in which they lived. Actor Samuel L. Jackson soliloquizes Baldwin's prose and colors it with the richness and gravity of its insight.
Archival film, photographs, interviews, and music force us to look at the evidence of heartless and gruesome deeds.
Although Baldwin talks of himself as a witness to racial humiliations, he takes an X-ray of white mentality and asks why ignoble words, images and thoughts take subliminal root and grow into acts of derision and bloodshed. He simply will not stand for it: "What white people have to do is to try and find out in their own hearts, Why it was necessary to have a "nigger" in the first place, because I'm not a nigger, I'm a man."
Mr. Baldwin would most likely argue that #BlackLivesMatter began the day Africans were kidnapped from their villages, chained to colonial slave ships, torn and dispersed from their kin, sold at auction, raped, tortured, and forced to work without pay so that the young republic could prosper at the expense of human rights and caring for other sentient beings.
Baldwin's expressive face would break out into a hard-edged sneer showing complete rebuke and disdain for the resurfacing of white nationalism, a President who "loves the poorly educated," who appears not to give a hoot about education, along with his Justice Department which attempts to distort the meaning and purpose of affirmative action. "I can't be a pessimist because I'm alive,"… I' m forced to be an optimist." Would Mr. Baldwin still be hopeful today?
But then, we see and hear Dr. Maya Angelou, the renowned poet and novelist, tapping her close friend, Jimmy, on the shoulder and melodiously reciting her signature poem, "Still I Rise."
Lisa Flanzraich
(Image: Courtesy of Kanopy Streaming, Inc.)
http://qc.kanopystreaming.com/video/i-am-not-your-negro
THE WITNESS
Queens-Media Center Level 1-HV6534.N5 W46 2016
BEWARE: the LIRR station at Kew Gardens, Queens, whether or not you stop there for cocktails at the boisterous neighborhood pub, Austin's Ale House. The ghost of Kitty Genovese lingers there.
On March 13, 1964 a vibrant and pretty 28 year-old Catherine Susan Genovese was stabbed and raped over and over again in the dark hours of morning while repeatedly screaming for help. Supposedly, a total of 38 onlookers ignored her pleas, revealing an insensitive and cold-hearted community. The New York Times seized on the sensationalism of such a brutal murder and reported the story, staged with apathetic and indifferent New Yorkers ignoring a stranger's cry for rescue.
Haunted by his sister's nightmarish death, Kitty's brother Bill Genovese, a paraplegic Vietnam War veteran whose legs were blown off in combat by an explosion, set about on a forensic journey to answer his nagging questions, thus calling into question the veracity of the Times's coverage of it.
In their powerful documentary, The Witness, Director/Producer James Solomon and Executive Producer Bill Genovese skillfully contrast the past and present with their editing of archival material, and storytelling techniques to excavate the facts of what happened that fateful night when neighbors actually did try to come to Kitty's aid.
Bill Genovese interviews living neighbors, his own family, detectives, well-known known journalists, such as Gabe Pressman, and Mike Wallace, and and the murderer's son to finally resolve the 50-year old trauma he has suffered. In doing so, he reclaims his most beloved sister, Kitty.
It is we, the viewers, however, along with Bill, who are the ultimate witnesses. Although we may shudder and cry in terror and pain, especially when we hear the screams of an actress playing Kitty in a re-enactment of that night, there is vindication as well as the resurrection of a gay woman's closeted but happy life in the 1960's, in a story that needs to be told.
Lisa Flanzraich
(Image: Courtesy of The Witnesses Film, LLC.Kitty Genovese, in 1959, photographed in her grandparents' backyard in Brooklyn. Photo by Andrew Giordano.)
http://qc.kanopystreaming.com/video/witness
THE APU TRILOGY : Pather Panchali
Queens-Media Center Level 1-PN1995.9.F67 P375 2015
Borrowing Privileges:One Week with Valid I.D. Card
Pather Panchali (Song of the Little Road) is one of those rare films that can change the way we see, understand, and connect with each other.
Directed by Satjiyat Ray in 1955, it is Part One of the Apu Trilogy. It follows the life of Apu from infancy to adulthood in West Bengal, India almost 100 years ago. What grips and astound us us most is the ways in which we bond with Apu's family. In so doing, we become members of it.
From the moment we hear the soulful ragas of renowned sitar master Ravi Shankar, we tune into a remote, rural village where we meet the Rays, an impoverished family struggling to make ends meet. Sarbajaya, Apu's mother, wears one of the saddest faces possibly ever seen on screen, having to shoulder child rearing, house-keeping, and caregiving to a gnarled elder, the loveable finagler, "Auntie." Harihar, the father, is a poor provider. Durga, the daughter, rues her preordained role of becoming a wife and mother but adores Apu whose birth uplifts the family.
As Apu grows up, we are pulled into landscapes that we may or may not have seen or heard before, save for the their stature and beauty. Satjiyat treats us to upside down reflections of figures walking along a river, dark clouds filling up the sky before a downpour, a pond full of floating lotus flowers, and flying bugs skipping through rippling water. We hear crickets chattering throughout the night, the howling wind of the monsoon cutting through the darkness of the family's dwelling, and the choo-chooing of the railroad set high on the horizon.
Apu and Durga listen to the electrical signals and then rush toward the train, imagining and hoping that there is life outside of the small circumscribed village and that they can hop aboard a car to venture out into the world.
With Song of the Little Road, Satjiyat Ray has invoked the spirit and poetry of Walt Whitman
It avails not time nor place—distance avails not,
I am with you, men and women of a generation, or ever so
many generations hence,
"Crossing Brooklyn Ferry"
Indeed, we shall carry the memory of Pather Panchali into the rest of our lives.
Lisa Flanzraich
(Image: Courtesy Janus Films, Inc.)
http://qc.kanopystreaming.com/video/pather-panchali
IN JACKSON HEIGHTS
Reserve Circulation Level 3 PN 1995.9 .D6 I 523 2015
Borrowing Privileges 3 Hour Loan
Image: Jackson Heights Train Station. Courtesy of Zipporah Films, Inc.)
In Jackson Heights is a three-hour long cinematic mural portraying the streets, people, and spirit of this spunky, vibrant United Nations of a community, home to a polyglot of languages and ethnicities.
Director Frederick Wiseman, who at 87 is considered to be the most accomplished documentary filmmaker in the United States, has honored Queens with this tribute. Having produced over 40 films, Wiseman has an uncanny ability to immerse us in the immediacy of people's lives. His subjects speak for themselves as they work, play, protest, organize, worship, dine, and socialize with each other. We are there with them.
Here is a mosaic of the working class engaged in protecting ownership of mom and pop businesses from corporate buy- outs, or immigrants organizing to fight against unpaid wages and inhumane working conditions, or transsexuals strategizing on how to confront the police for harassing them inside and outside a club.
Because there is no voiceover narration, Wiseman allows us to eavesdrop on dilemmas and meld into settings. In a long 7-minute scene featuring Make The Road, an activist organization, a Mexican immigrant tells the story of how her daughter was stranded in the desert for 15 days without water before crossing the border into the U.S.
In contrast to long scenes, Wiseman offers striking sequences and shots of neighborhood bustle:close-ups of gorgeous flowers, fruits, and vegetables for sale at an outdoor stand; costumed marchers at the Queens Pride LGBT Parade; a musician playing a xylophone in a laundromat. We pay attention to city sounds as they punctuate every scene: the constant honking of cars, the tinkling bells of the Mister Softee ice cream truck, police sirens, fireworks, or the roar of a thunderstorm.
And, then there is that steady refrain of the rumbling and screeching of the No. 7 curving its way on outdoor tracks 24/7, grounding and reassuring us that Jackson Heights unites us all.
Lisa Flanzraich
HUGO
Queens-Media Center Level 1- PN 1997.2 H846 2012
Borrowing Privileges:One Week with Valid I.D. Card
Martin Scorsese's 3D production of Hugo may have been promoted as a children's movie at the time of its release in 2011; however, its psychological maturity and depth offers satisfaction for all ages. The film is based on Brian Selznick's The Invention of Hugo Cabret, a young person's novel illustrated with old-master-style charcoal drawings.
We follow the quest
of a twelve-year-old orphan hoping to unravel the meaning of a drawing left to him by his deceased father, a clock maker and automaton tinker, who perished in a fire.
Like the hero of a fairy tale, Hugo is the brave, abandoned child sequestered inside the walls of a clock in a 1930s Parisian train station, left to survive on his wits, but knowing how to set clocks. He gets caught stealing a toy from a shopkeeper, who turns out to be Georges Méliès, the early twentieth-century pioneer of fantasy and science fiction film and director of A Trip to the Moon. (1902).
However, Méliès is no longer a productive, working artist. Like Hugo, he has been discarded and forgotten. He, too, is grief stricken and suffers from loss. Papa Georges whisks Hugo's notebook away as punishment for stealing, yet later on lets him be his assistant. Isabelle, Méliès goddaughter, wears a heart-shaped key around her neck that unlocks the automaton and allows it to write a secret message, ultimately freeing both Hugo and Méliès from despair and anonymity.
The mechanical man is a totem, a sacred object binding Hugo to his father. "If I could fix it, I wouldn't be so alone," he declares. "This is all I have left of him." We see Hugo holding and carrying the automaton, as if it were a child in need of protection. By drawing the moon with a telescope in its eye and then signing it "George Méliès," the automaton transmits, like a Ouija Board, a command to bring back the wondrous cinema of Méliès.
In Hebrew, tikkun olam means repairing the world. Having restored each other's belief in the power of caring, Hugo and Méliès, father and son, now have the creative universe open to them.
Lisa Flanzraich
(Image: Brian Selznick drawing from The Invention of Hugo Cabret.. Courtesy of Scholastic Inc.)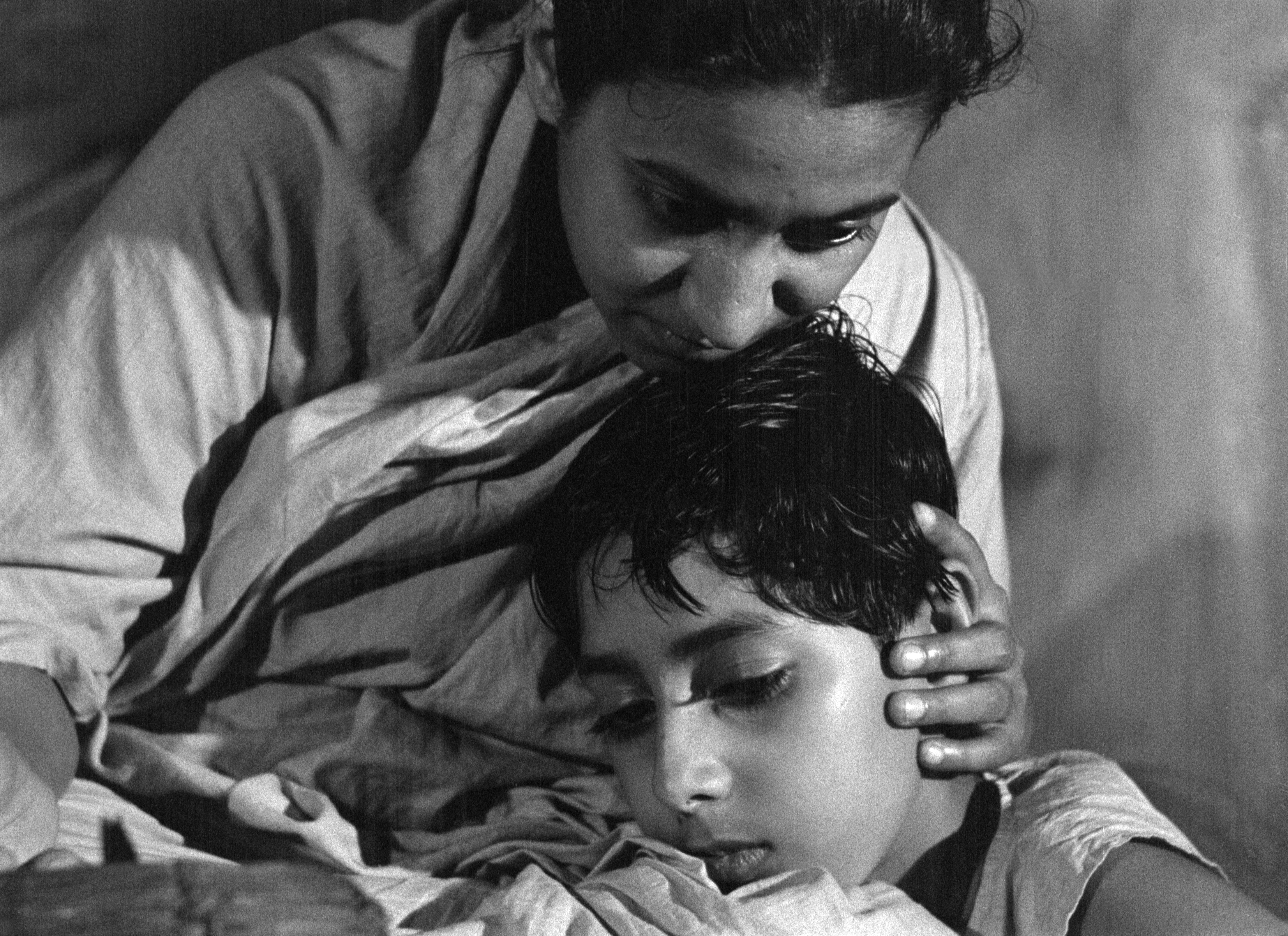 In Part Two, Aparijito, or The Unvanquished, the mournful ringing of bells alerts us to the
heartbreak that occurs while Apu grows from child to adolescent. The absence of the
mischievous, devilish Durga, Apu's sister, is sorely felt--we miss her. She has died from
pneumonia, having frolicked for too long in the monsoon's downpour. The family moves
to the holy city of Benares where Hari, Apu's father, can practice Ayurvedic medicine. He,
too, dies from the chill and dampness of bathing in the Ganges River.
The dwindling Ray family is of utmost concern to us. How will Sarbajaya, now a vulnerable
widow, and Apu survive, save for the kindness of relatives? She need not speak a word, for her
face and body language fill the screen with woe. They tell of a lost and lonely soul, waiting in
portals and entrances, all the while clinging to a restless son daring to go to a secular school
and learn about science, literature, and world history. He, too, cups tightly, but it is to a globe
that connects him to the universe and its infinite riches. Here, the ringing of school bells ushers
in opportunities as he detaches himself from his mother.
As is his trademark, director Satyajit Ray settles on discrete scenes, or shots, calling our attention
to the ordinary and the sublime: chevrons of dark birds shooting through a grey sky; the low and
high-pitched screech of flutes exclaiming the death of Hari; a tightly edited montage of monkeys
swinging from branches as Apu teases and beckons them with food; Sarbajaya's unbound,
waist-length hair draping her gone face. Finally, she disappears into the night with flecks of
firelight before her eyes, madly hallucinating Apu's return to her arms.
Apu is now alone in the world. And, so are we.
Lisa Flanzraich
(Image: Courtesy Janus Films, Inc.)